Shayle Gibbs



Age

20

Race

Witch

Residence

Creston
Shayle Gibbs
is a girl whose body was stolen by a
witch
. In life she was a very foul person who caused trouble more often than not. However, she has since had her body stolen by a witch. Current details about the witch herself are currently unknown.
Personality
Edit
Shayle is an extremely aggressive person. She often gets herself kicked out of places for her bad behaviour and has even been arrested.
There are no details yet of what her personality as a witch is.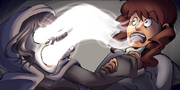 Prior to becoming a witch Shayle got herself kicked out of a building for unknown reasons. In the alley behind the building she came face to face with a witch. At first she attempted to mug the witch, however the witch's ability to attract human girls got the better of her. Shayle dropped the knife she was holding and approached the witch unarmed only to have her body stolen.
Now a witch, Shayle left the scene, leaving her old body behind. The hunters soon found her leftover body, and a witch hunt began immediately. Shayle hasn't been seen since that night.